Indian Wells Tennis Garden
Flanked by politicians, tour officials and some of the best tennis players in the world, BNP Paribas Open owner Larry Ellison promised the $70 million expansion of the Indian Wells Tennis Garden will put an emphasis on the landscape.
And the new sushi restaurant.
During the groundbreaking ceremony, Ellison said one of the two restaurants will be Nobu, a high-end sushi restaurant in Southern California and Las Vegas.
"I think this is something that will be unique at Indian Wells. No more energy bars, but instead sushi during changeovers and a full meal between sets," joked Ellison, who was flanked by tennis stars Roger Federer, Rafael Nadal, Novak Djokovic, Victoria Azarenka and Ana Ivanovic.
"With Nobu here, you can order a California roll," joked Azarenka. "What else could be better?"
Nobu would be one of two restaurants in the new 8,000-seat stadium that is scheduled to be completed in time for next year's tournament. The expansion also includes 2,000 additional parking spaces and lush landscaping and trees to provide additional shade for fans.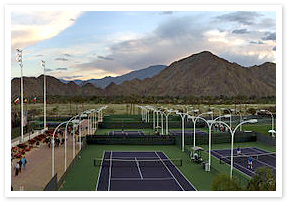 The new stadium is located behind the current food court on the northeast part of the Indian Wells Tennis Garden. It will complement the 16,100-seat main stadium, which is the second-largest tennis stadium in the world.
Once the expansion is completed, the tournament has set a five-year goal to increase attendance to 500,000, which would make it the third-most-attended tennis event in the world, surpassing the French Open and Wimbledon, based on last year's attendance numbers.
Last year's attendance numbers were just over 370,000, and tournament officials think this year they have a chance to reach 390,000 fans.
"We're all very excited about this day," said Federer, the winningest player at the BNP Paribas Open with four titles. "We're very happy to see the big expansions happening around tennis tournaments — new tennis courts, new center courts, new flowers, restaurants. It's wonderful and exciting.
"I've been playing here since 1999, so I've come here for a long time," Federer said. "I've seen this tournament grow, and this is obviously another huge step and a step in the right direction."
The expansion should be impressive, based on its price tag. In comparison, the entire Indian Wells Tennis Garden was built in 1999 for $77 million.
"I think the players are really going to like it," said tournament CEO Raymond Moore. "It will be a very intimate stadium with the fans very close to the action."
Full article: http://www.mydesert.com/article/20130308/BUSINESS04/303080040/Indian-Wells-tennis-garden-continues-bloom